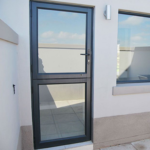 Minimizing Noise Pollution: The Soundproofing Benefits of Aluminum Doors
October 10, 2023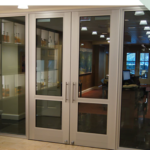 Aluminum Doors for Your Business
October 10, 2023
When it comes to commercial spaces, choosing the right doors is essential to create a sustainable and stylish environment. Aluminum doors offer a perfect blend of sustainability, durability, and aesthetic appeal, making them an ideal choice for commercial settings. In this article, we will explore why aluminum doors are well-suited for commercial spaces.
Sustainability: Aluminum is a highly sustainable material. Choosing aluminum doors for your commercial space means opting for a product that is recyclable, reducing environmental impact and contributing to a greener future.
Durability and Longevity: Commercial spaces require doors that can withstand heavy usage. Aluminum doors are known for their durability and long lifespan, making them a cost-effective choice for high-traffic areas.
Customizable Design: Aluminum doors offer a wide range of design options, allowing you to customize them to match your brand's aesthetic. From sleek and modern designs to more traditional styles, aluminum doors can be tailored to suit your commercial space.
Low Maintenance: In busy commercial environments, low maintenance solutions are highly desirable. Aluminum doors require minimal upkeep, saving you time and effort in maintenance tasks while still maintaining their attractive appearance.
In conclusion, aluminum doors provide an ideal combination of sustainability, durability, customizable design, and low maintenance requirements, making them a practical choice for commercial spaces. Their ability to enhance sustainability while adding a touch of style makes them a popular option among business owners and architects alike.
Aluminum Doors for Your Business
Minimizing Noise Pollution: The Soundproofing Benefits of Aluminum Doors