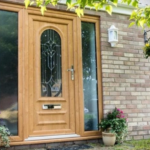 Vinyl Doors: The Perfect Blend of Style and Versatility
October 10, 2023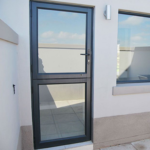 Minimizing Noise Pollution: The Soundproofing Benefits of Aluminum Doors
October 10, 2023
When it comes to choosing doors for your home, finding the perfect balance between strength and weight is essential. Aluminum doors offer an ideal combination of strength and lightweight properties, making them a practical choice for homeowners. In this article, we will explore the unique characteristics that make aluminum doors an excellent option.
Strength: Despite its lightweight nature, aluminum is incredibly strong and durable. Aluminum doors can withstand impacts, making them a reliable choice for high-traffic areas in your home.
Structural Integrity: Aluminum doors possess excellent structural integrity, ensuring they remain sturdy and secure throughout their lifespan. Their resistance to warping or bowing makes them suitable for various environmental conditions.
Easy Installation: Aluminum doors are lightweight, making them easier to handle and install compared to heavier door materials. Their lighter weight reduces strain during installation while still providing the required level of strength.
Smooth Operation: The lightweight nature of aluminum doors allows for smooth and effortless operation. Whether you choose hinged or sliding aluminum doors, you can expect them to glide open and close with ease.
In conclusion, aluminum doors strike the perfect balance between strength and lightweight characteristics. Their strength, structural integrity, ease of installation, and smooth operation make them an ideal choice for homeowners seeking durable and user-friendly door options.
Minimizing Noise Pollution: The Soundproofing Benefits of Aluminum Doors