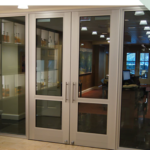 Aluminum Doors for Your Business
October 10, 2023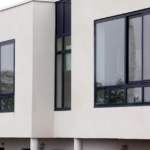 Modern Elegance Redefined: The Allure of Aluminum Windows for Contemporary Living
November 9, 2023
Transform the way you view your living spaces with the modern elegance and functionality of aluminum windows. These sleek and sophisticated fixtures are not just about framing views; they're a design statement that can truly elevate your home's aesthetic appeal. Here's why aluminum windows are a must for those seeking a perfect blend of style and substance:
Contemporary Elegance: Say goodbye to bulky frames and hello to clean lines and a streamlined look. Aluminum windows exude contemporary elegance, adding a touch of sophistication to any room. Their slim profiles allow for maximum glass area, inviting more natural light and framing your outdoor scenery like a work of art.

Versatile Design Options: Whether your home boasts a modern architectural design or leans towards a more traditional aesthetic, aluminum windows come in a variety of styles and finishes to complement any setting. From classic neutrals to bold metallics, there's a perfect match for every taste.

Durability Beyond Compare: Aluminum is known for its durability and resistance to corrosion, making it an ideal choice for windows that withstand the test of time. Enjoy peace of mind knowing that your windows not only look stunning but are built to last, requiring minimal maintenance.

Energy Efficiency: Embrace the benefits of energy-efficient living with aluminum windows. Their thermal performance helps regulate indoor temperatures, keeping your home comfortable year-round and potentially reducing energy costs. An environmentally conscious choice that doesn't compromise on style!

Security with Style: Your home's safety is paramount. Aluminum windows offer robust security features, ensuring that your windows are as secure as they are stylish. Enjoy the view with peace of mind, knowing that your home is well-protected.
Ready to redefine the beauty of your living spaces? Discover the transformative power of aluminum windows and bring a touch of modern sophistication to your home. Elevate your aesthetics and let your windows be more than just openings—they're statements of style and substance.
Modern Elegance Redefined: The Allure of Aluminum Windows for Contemporary Living