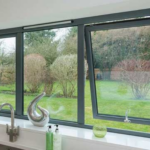 Enhance Your Home with Fine Windows and Doors' Aluminum Window Collection
September 8, 2023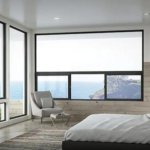 The Versatility of Fine Windows and Doors' Aluminum Windows
September 8, 2023
In today's environmentally conscious world, energy efficiency is a top priority for homeowners. Fine Windows and Doors recognizes the importance of energy-efficient solutions, which is why our aluminum windows are designed to maximize energy savings while providing exceptional performance. In this article, we will explore the energy efficiency features of our aluminum windows and how they can help you reduce energy consumption and save on utility bills.
Thermal Break Technology:
Fine Windows and Doors' aluminum windows incorporate advanced thermal break technology. A thermal break is a non-conductive material placed between the interior and exterior parts of the aluminum frame. This technology helps to minimize the transfer of heat and cold through the window frame, resulting in improved insulation and energy efficiency. By reducing heat loss in winter and heat gain in summer, our aluminum windows help maintain a comfortable indoor temperature throughout the year.
Low-E Glass Coatings:
Our aluminum windows are available with low-emissivity (Low-E) glass coatings. Low-E coatings are designed to reflect heat radiation while allowing natural light to enter your home. These coatings help to prevent heat from escaping during winter months and minimize heat gain during hot summers. By reducing the need for excessive heating or cooling, our aluminum windows contribute to lower energy consumption and significant savings on your energy bills.
Energy Star® Certified:
Many of our aluminum windows are Energy Star® certified. This certification indicates that our windows meet or exceed rigorous energy efficiency standards set by the Environmental Protection Agency (EPA). Energy Star® certified windows are independently tested and verified to provide exceptional energy performance. By choosing our Energy Star® certified aluminum windows, you can have confidence in their energy-saving capabilities.
Improved Insulation:
Fine Windows and Doors' aluminum windows feature multiple chambers within the frame. These chambers act as insulation pockets, reducing thermal conductivity and enhancing overall insulation performance. The improved insulation helps to create a more comfortable indoor environment by preventing drafts and minimizing temperature fluctuations. As a result, your heating and cooling systems can operate more efficiently, leading to energy savings and reduced energy costs.
Sustainable Materials:
In addition to their energy-efficient properties, our aluminum windows are crafted using sustainable materials. Aluminum is highly recyclable and can be repurposed without losing its quality. By choosing our aluminum windows, you contribute to the promotion of a greener and more sustainable future.
Potential Tax Credits and Incentives:
Investing in energy-efficient windows can have financial benefits beyond energy savings. Depending on your location, you may be eligible for tax credits or incentives for installing energy-efficient windows. These incentives can help offset the cost of purchasing and installing our aluminum windows, making them an even more attractive and cost-effective choice.
Noise Reduction:
In addition to their energy-saving benefits, our aluminum windows also offer excellent noise reduction capabilities. The robust construction and advanced insulation properties of our windows help minimize external noise, creating a quieter and more peaceful indoor environment. Enjoy a serene living space while reaping the energy-saving benefits of our aluminum windows.
Fine Windows and Doors' aluminum windows not only enhance the beauty and functionality of your home but also provide remarkable energy efficiency. With features such as thermal break technology, Low-E glass coatings, Energy Star® certification, improved insulation, sustainable materials, potential tax credits, and noise reduction capabilities, our aluminum windows contribute to energy savings, reduced environmental impact, and increased comfort. Experience the energy efficiency and savings offered by our aluminum windows and enjoy a more sustainable and cost-effective living environment.