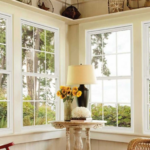 Vinyl Windows: The Perfect Blend of Style and Functionality for Your Home
September 10, 2023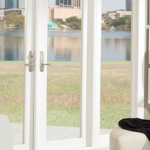 Enhancing Home Security with Vinyl Doors: Peace of Mind and Protection
October 10, 2023
Vinyl doors have gained popularity among homeowners for their exceptional durability, energy efficiency, and aesthetic appeal. If you're looking to upgrade your home's doors, vinyl doors are an excellent choice. In this article, we will explore the numerous benefits of vinyl doors and why they are a smart investment for your home.
Durability: Vinyl doors are known for their remarkable durability. They are resistant to warping, cracking, and rotting, making them ideal for various climates. Unlike wooden doors that may deteriorate over time, vinyl doors can withstand exposure to moisture, UV rays, and extreme weather conditions, ensuring long-lasting performance.
Energy Efficiency: Vinyl doors are excellent insulators, helping to maintain a comfortable indoor environment while reducing energy costs. They have a high thermal resistance, minimizing heat transfer between the interior and exterior of your home. By keeping the cold air out during winter and preventing heat from entering during summer, vinyl doors contribute to energy efficiency and lower utility bills.
Low Maintenance: One of the key advantages of vinyl doors is their low maintenance requirements. Unlike wooden doors that require regular staining or painting, vinyl doors do not need to be refinished. They are resistant to fading, scratching, and chipping, retaining their original appearance with minimal effort. Cleaning vinyl doors is as simple as using mild soap and water, making them a convenient choice for busy homeowners.
Versatility in Design: Vinyl doors offer a wide range of design options to suit your home's style and preferences. They are available in various colors, finishes, and textures, allowing you to choose a vinyl door that complements your home's exterior. Whether you prefer a classic, modern, or contemporary look, vinyl doors can be customized to enhance the overall aesthetic appeal of your home.
Affordability: Vinyl doors are a cost-effective choice compared to other door materials, such as wood or fiberglass. They offer excellent value for money without compromising on quality. Vinyl doors are known for their durability and long lifespan, making them a wise investment that will save you money in the long run.
Noise Reduction: Vinyl doors have excellent soundproofing properties, creating a quieter and more peaceful indoor environment. They help to block external noise, such as traffic or neighborhood sounds, allowing you to enjoy a more serene living space.
In conclusion, vinyl doors offer a host of benefits that make them an attractive choice for homeowners. Their durability, energy efficiency, low maintenance requirements, design versatility, affordability, and noise reduction capabilities make vinyl doors a practical and stylish addition to any home. Consider upgrading to vinyl doors for improved performance, energy savings, and enhanced curb appeal.
Enhancing Home Security with Vinyl Doors: Peace of Mind and Protection