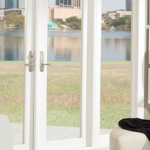 Enhancing Home Security with Vinyl Doors: Peace of Mind and Protection
October 10, 2023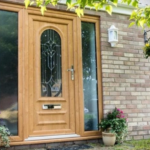 Vinyl Doors: The Perfect Blend of Style and Versatility
October 10, 2023
Energy efficiency is a key consideration for homeowners looking to reduce their environmental impact and lower their utility bills. Vinyl doors offer excellent energy-saving benefits, making them a popular choice among environmentally conscious homeowners. In this article, we will explore the energy efficiency of vinyl doors and how they can enhance comfort while reducing energy costs.
Thermal Insulation: Vinyl doors are known for their superior thermal insulation properties. They act as a barrier against heat transfer, helping to maintain a consistent indoor temperature. During the hot summer months, vinyl doors prevent heat from entering your home, keeping the interior cool and reducing the need for excessive air conditioning. In winter, they help to retain warmth by minimizing heat loss, resulting in energy savings and increased comfort.
Weather Resistance: Vinyl doors are highly resistant to weather conditions, including extreme temperatures, moisture, and drafts. Their weather-resistant properties help seal out outdoor elements, preventing cold drafts from entering your home during winter and keeping the indoor environment comfortable. This reduces the reliance on heating systems, leading to energy savings and improved energy efficiency.
Low-E Glass Options: Vinyl doors can incorporate Low-E (low emissivity) glass options. Low-E glass has a microscopically thin coating that reflects heat, allowing natural light to enter while minimizing heat transfer. This helps to regulate indoor temperatures and reduces the need for artificial lighting and HVAC usage, resulting in energy efficiency and cost savings.
Insulated Core: Many vinyl doors feature an insulated core, typically made of foam or other insulating materials. This core provides additional thermal resistance, improving the overall energy efficiency of the door. The insulated core helps to minimize heat transfer, keeping your home comfortable and reducing energy consumption.
Proper Installation: The energy efficiency of vinyl doors is greatly influenced by proper installation. It is essential to ensure that the doors are correctly installed, with a tight seal and proper insulation around the frame. Professional installation helps to eliminate air leaks and ensures optimal energy performance of the vinyl doors.
Environmental Impact: Vinyl doors contribute to energy efficiency and a reduced carbon footprint. By conserving energy, homeowners using vinyl doors help to lower greenhouse gas emissions associated with energy production. Choosing energy-efficient vinyl doors aligns with sustainable practices and promotes a greener living environment.
Cost Savings: The energy efficiency of vinyl doors translates into cost savings on energy bills. By reducing heating and cooling demands, homeowners can enjoy significant savings over time. The initial investment in energy-efficient vinyl doors can be recouped through lower energy costs, making them a smart financial decision.
In conclusion, vinyl doors offer excellent energy efficiency benefits, contributing to enhanced comfort and cost savings. With their thermal insulation properties, weather resistance, Low-E glass options, insulated cores, proper installation, environmental impact, and resulting cost savings, vinyl doors are an energy-efficient choice for homeowners looking to reduce their carbon footprint and create a more comfortable living environment.
Vinyl Doors: The Perfect Blend of Style and Versatility
Enhancing Home Security with Vinyl Doors: Peace of Mind and Protection