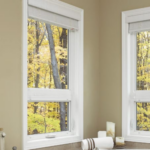 The Advantages of Vinyl Windows: Beauty, Durability, and Energy Efficiency
September 10, 2023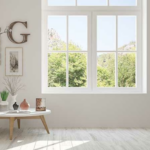 The Benefits of Vinyl Windows: Efficiency, Comfort, and Longevity
September 10, 2023
Vinyl windows are a popular choice among homeowners due to their exceptional beauty, versatility, and durability. At The Window Blind Connection, we understand the importance of finding the perfect windows to complement your home's aesthetics. In this article, we will explore the beauty and versatility of vinyl windows and how they can enhance the overall look and feel of your home.
Wide Range of Styles:
Vinyl windows come in a wide variety of styles to suit any architectural design. Whether you prefer the classic appeal of double-hung or the sleek lines of casement windows, vinyl windows offer a style that fits your preferences. Additionally, they can be customized with different grid patterns and decorative options, allowing you to create a unique and personalized look for your home.
Diverse Color Options:
Vinyl windows provide an extensive range of color options to match your home's exterior or interior palette. From traditional white and neutral tones to bold and vibrant shades, vinyl windows allow you to add a touch of personality to your home's facade. The color options are designed to withstand fading, ensuring long-lasting beauty.
Enhanced Curb Appeal:
The beauty of vinyl windows extends beyond their aesthetics. They can significantly enhance your home's curb appeal, creating a positive first impression. With clean lines, smooth finishes, and a variety of styles to choose from, vinyl windows can transform the look of your home's exterior, increasing its value and attractiveness.
Natural Light and Views:
Vinyl windows are designed to maximize natural light and provide unobstructed views. They feature slim frames and larger glass areas, allowing ample sunlight to fill your living spaces and create a bright and inviting atmosphere. Enjoy the beauty of the outdoors from the comfort of your home with vinyl windows that showcase the surrounding views.
Energy Efficiency:
Vinyl windows are known for their energy-efficient properties. They are designed with insulation features that help reduce heat transfer and maintain a comfortable indoor temperature year-round. The energy efficiency of vinyl windows can lead to lower energy bills and a reduced carbon footprint, making them an environmentally friendly choice.
Low Maintenance:
One of the significant advantages of vinyl windows is their low maintenance requirements. Unlike wood windows that require regular painting and staining, vinyl windows are easy to clean and maintain. A simple wipe with a mild detergent is sufficient to keep them looking new and fresh. Spend less time on maintenance and more time enjoying the benefits of your vinyl windows.
Vinyl windows offer a combination of beauty, versatility, and durability that can enhance the aesthetics of your home. With a wide range of styles, diverse color options, enhanced curb appeal, abundant natural light, energy efficiency, and low maintenance requirements, vinyl windows are an excellent investment for homeowners. At The Window Blind Connection, we provide high-quality vinyl windows that combine functionality with exceptional design. Upgrade your home with vinyl windows and enjoy their numerous benefits, from elevating your home's beauty to improving energy efficiency and overall comfort.
The Benefits of Vinyl Windows: Efficiency, Comfort, and Longevity